Brand
manager
Everything you need to know about managing a brand, from A to Z. Everything you need to know about managing a brand, from A to Z. Learning from someone else's mistakes is wise, so listen to the best market experts and find out what actually pays off. It's four months of knowledge, inspiration and new acquaintances!
Duration:
4 months. Twice a week. 6–8 pm.
Location:
Gedimino pr. 27, Vilnius | Online
What will you learn?
Brand management
Strategy and tactics
Positioning
Marketing
Media planning
Briefing
Benefits
The course is suitable for both niche brand creators and those working with well-known international names. Company managers and communication experts, who face real challenges in their work every day, let our students in on their experience. This is the place where you'll hear all about the success stories, as well as all the failures. You will learn things that are not available in a textbook or on Google.
Is
this
course
for
me?
The Brand Manager course is ideal if you
have a business idea but you don't know where to start
are already developing your brand and are aiming for better results
work in a company's marketing department and want to improve
are looking for your driving force in the field of marketing
are a self-taught marketer who is striving for consistent knowledge
Teachers
Charismatic personalities and true professionals in their field, who are generously willing to share their knowledge. Thanks to them, numbers, analyses and result measurements are interwoven with creativity, inspiration and new acquaintances. The relationships you build with the teachers will come in handy after the course is over, as contacting them and asking them questions later is permitted.
Reviews
We are just as proud of our alumni, whom we call Atomics with a capital A. Whether they came to our school to gain more knowledge or to start a new stage in their career, they are now top-level professionals and our best business cards. Read reviews and learn more about the first-hand experience of studying the courses you find interesting.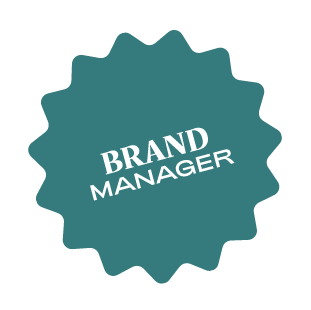 The brand management course was like a springboard to my dream job. From the beginning of the course, I had the goal of finding a job, so I tried to gain as much knowledge and experience as possible. And it just so happened that on the day of the presentation of diplomas I could also celebrate the first day of my dream job! I chose this course knowing exactly what I wanted to learn and gain, but it exceeded my expectations, opened up pathways and gave me confidence in both myself and my knowledge. The teachers of the course – extremely diverse and exceptional personalities, true specialists in their field – after systematizing and selecting all the necessary information, perfectly involved both in distance learning and in discussions and workshops. I feel that I have gone through brand building and repeated the entire marketing course from A to Z. I am very happy that I chose this particular course. It's experience and knowledge that you won't get from reading books.
Brand manager
Duration:
4 months. Twice a week. 6–8 pm.
Location:
Gedimino pr. 27, Vilnius | Online
Become atomic
Have a question? It means you're ready to be better
Would you like a consultation?
We look forward to receiving your letter or call
Address
Gedimino pr. 27, Vilnius
The most important news, information about upcoming courses, insights and feedback from teachers and Atomics - directly to your mailbox.